---
---
---
"CVCS - A School Committed to Quality Christian Education"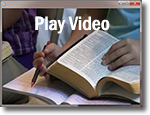 Video for Windows PC ~ Video for MAC
OUR HISTORY
Cedar View Christian School began in 1971 as a ministry to kindergarten students. In 1980, the addition of fourteen elementary students created the need for two additional teachers. By 1982, the enrollment had increased to thirty-seven students in Kindergarten through fifth grade. The Lord blessed our school in 1984 by increasing our enrollment to eighty-nine, which was double the previous year. He also supplied thirteen faculty and staff members, allowing us to add a high school curriculum. We were proud to see our first graduating class in May of 1987!
With enrollment increasing, we rapidly outgrew our facilities. The Lord answered the prayers of many by allowing the purchase of the Bell Ridge School building in the spring of 1988. Much work during the summer enabled the 1988-89 school year to begin in the new facility. Our present enrollment is 180 students. With the blessing and guidance of the Lord, Cedar View Christian School will continue to greatly increase.
---
STATEMENT OF FAITH
We unqualifiedly affirm our belief in the inspiration of the Bible (the inerrancy and the infallibility of both the Old and New Testaments); the creation of man by the direct act of God; the incarnation and the virgin birth of our Lord and Saviour Jesus Christ; his identification as the Son of God; his vicarious atonement for the sins of mankind by the shedding of his blood on the cross; the new birth through the regeneration by the Holy Spirit; the gift of eternal life by the grace of God; and his visible return in power and glory to receive his own.
---
OUR PURPOSE
Cedar View Christian School provides an alternative to public school system education. The Bible, the verbally inspired Word of God, is the solid foundation of our curriculum and the basis of our philosophies of education and life. Parents and students who care are entitled to such an alternative. Cedar View Christian School, in order to provide such an alternative, purposes:
To train our students to love and respect the Word of God. Every student is taught by born-again Christian teachers who believe the Bible to be the foundation of truth. The philosophy of life and principles for living as set forth in the Bible permeate all aspects of our students learning and daily activities.
To instill into our students pure and noble standards for living including respect for the rights and property of others, love of country, obedience to law, self-discipline, and the importance of the individual.
To offer our students quality academic training. Intellectual development is an important part of education as are spiritual growth and character development.